Choir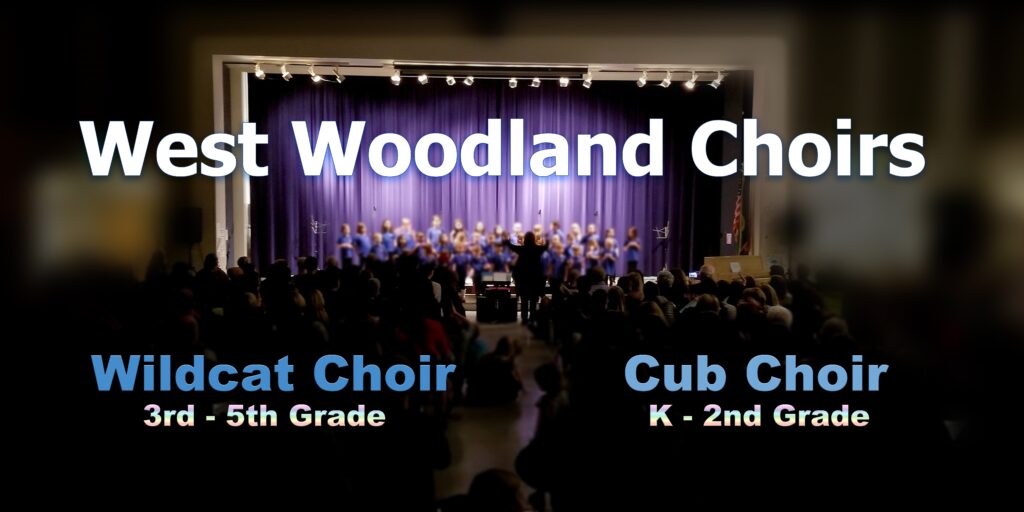 Cub & Wildcat Choir
Choir Director – Donna Brodland
The West Woodland Choir Committee and Director welcome all existing and new students to join the school choir! There are two groups:
Cub Choir – K through 2nd grade
Wildcat Choir – 3rd to 5th grade
Each choir meets twice weekly to learn basic vocal techniques, sing songs from a variety of genres, and prepare for performances in front of live audiences.
NOTE: Choir format for the 2022-2023 school year is still to be determined (TBD) – Stay Tuned!
Schedule, cost and scholarship information is below.
Q: How often does the choir practice and when do they meet?
A: There are two choirs, divided by age. The Cub choir is for Kindergarteners through second-graders, and the Wildcat choir is for third- through fifth-graders. Both choirs meet twice a week in the mornings, from 7:20 a.m. to 7:50 a.m., through early June. The expected schedule for each choir is:
Cub Choir: Tuesdays & Thursdays Start Date: 9-27-22
Wildcat Choir: Wednesdays & FridaysStart Date: 9-28-22
NOTE: Rehearsal location and format TBD.
Q: Where do the choirs perform?
A: Both choirs perform at the Winter and Spring school concerts. In addition, as opportunities present, there are some performances (TBD) at outside venues.
NOTE: Field trips will be subject to Seattle School District approval.
Q: Who is the Choir Director?
A: We are excited to have Donna Brodland returning as Choir Director. She is a professional musician who has taught the choirs for the last 20+ years.
Q: What is the cost to join the choir?
A: The choir is an independent, PTA-sanctioned club that collects tuition to pay for the director, field trips, equipment, performance t-shirts, etc. The annual tuition is $350 per student, payable at the start of the program.
Q: What is the tuition if we have multiple children involved in choir?
A: After the first tuition is paid in full, there is a $50 discount for enrolling subsequent siblings.
Q: We love music, but need a bit of financial assistance to make this pencil in our household budget. What do we do?
A: Apply for a scholarship! Scholarships for reduced tuition (amount is TBD) are available. Families can pick up scholarship request forms in the school office. All requests will be kept confidential. These funds are limited and will be allocated on a first come, first served basis.
Q: How do I register my child for choir?
A: To register your child for the choir, please complete the online choir sign-up form Open registration begins 9-12-22.  Payment is made to the West Woodland PTA on line during registration or by check made out to WWPTA and mailed to the following address (WWPTA; PO Box 17296; Seattle, WA; 98127). Please register and submit payment by the first day of choir – 9/27/22. 
If you have any questions about the choir or the registration process, please feel free to send a note to wwchoir@gmail.com.
Q: Who manages the choir?
A: The choir is a separate entity that is not run within the WW Enrichment program. A few parents comprise the fun and low-key committee, a group that supports the director, weighs in on decisions, and provides administration. We are inviting a few new parents to join this group – with the added benefit of a tuition discount. Please send an email to wwchoir@gmail.com with your interest. We'd love to chat!
2022-23 Choir Committee
Alison Agness